Contents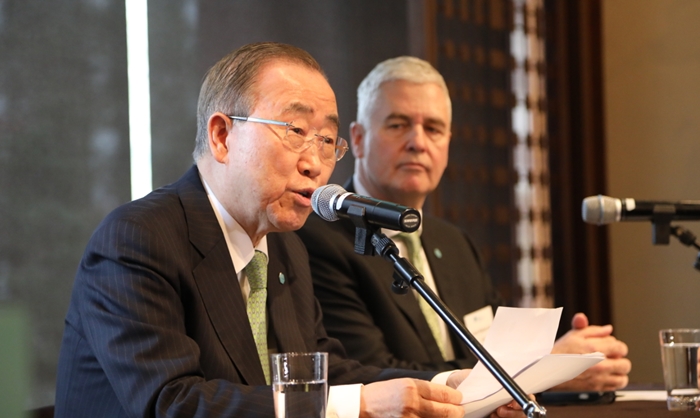 By Kang Gahui and Hahm Hee-eun

Former United Nations Secretary General Ban Ki-moon has been appointed as the new chair and president of the Global Green Growth Research Institute (GGGI). He announced his new role in a press conference at the Westin Chosun Hotel in Seoul on March 27.

Ban stressed the importance of achieving the Nationally Determined Contributions (NDC) under the Sustainable Development Goals (SDG) of the United Nations 2030 Agenda and the Paris Agreement.

"I will make the most of my experience at the United Nations," said Ban, who has an established network of national leaders from his term at the U.N. He plans to work closely with national leaders around the world on key environmental issues, including particulate matter, energy and water.

He said, "I will further strengthen GGGI support among member states so that they can achieve their sustainable development goals and NDCs."

Last month, he was elected as the new chair of the GGGI and started to work at the GGGI office in Seoul on March 5. The term of office is renewable after two years and he will preside over the GGGI general assembly and its board of directors.

The GGGI is an international organization founded in 2010 to support low-carbon green growth in developing countries. It is based in Seoul and has 28 member states.